Code Red is an American television series that ran on ABC from 1981 to 1982. The series was produced by Irwin Allen.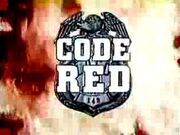 Cast
[
]
Lorne Greene

- Joe Rorchek

Andrew Stevens

- Ted Rorchek

Sam J. Jones

Chris Rorchek

Adam Rich

- Danny Blake
About the show
[
]
The series starred Lorne Greene as Battalion Fire Chief Joe Rorchek and his family, some of whom, his elder sons Ted (Andrew Stevens) and Chris (Sam J. Jones), serve as firefighters under his direct command as part of the Los Angeles Fire Department. In addition, Haley Green, the first female firefighter in the LAFD, is under Rorchek's command and serves with distinction both professionally and as a friend of the Rorcheks.
In addition, Joe Rorchek's preteen adopted son, Danny Blake (Adam Rich) serves as a member of the Firefighter Explorers organization, complete with his own uniform and turnout gear. Although still a child, Danny dreams of joining the family profession and enjoys privileged access to his family's professional activities. As a result, he has numerous adventures of his own armed with a cool head in the face of crisis and considerable fire safety and first aid skills for his age. Despite the danger, the male members of the Rorchek family have the full support of Ann Rorchek, Joe's wife, who is proud of her family's calling.
Episodes
[
]
External Links
[
]