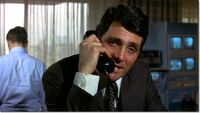 Albert David Hedison, Jr. was born in Providence, Rhode Island on May 20, 1927.
He began his acting career with the Sock & Buskin Players at Brown University before moving to New York to study with Sanford Meisner and Martha Graham at the Neighborhood Playhouse, and with Lee Strasberg at the Actors Studio. From there, he moved to off Broadway productions and a film contract with 20th Century-Fox. While at Fox, Hedison made two television series: "Five Fingers" and "Voyage to the Bottom of the Sea".
He has also appeared in a great variety of roles, from the PBS Television Theatre's production of Oliver Hailey's "For the Use of the Hall", directed by Lee Grant, and the NBC mini-series "A.D.", directed by Stuart Cooper, to ABC's "Dynasty II: The Colbys". For five years, he played Spencer Harrison in the NBC daytime series "Another World".
He has also worked on British television, including the BBC presentation of Tennessee Williams' "Summer and Smoke" in the role of John Buchanan opposite Lee Remick and performed in a West End production of James Leo Herlihy's "Bad Bad Jo Jo".
External Links
Edit