Featured Article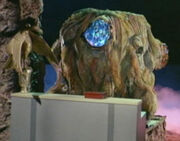 The bubble creatures were a spacefaring species. They resembled a gnarled, melting lump of greenish-brown flesh, with several pulsating multi-faceted 'bubbles' of various colors protruding from various spots on their body. Their apparent natural means of communication was electric arcing on the surface of their bubbles.
Bubble creatures were the first aliens encountered by the Robinsons after leaving Earth. In 1997, Will Robinson made first contact, inadvertently waking the creatures from a frozen state aboard their supposedly derelict spaceship. Relations quickly soured after Dr. Smith shot one of them. Read more of this article
---
* Previous featured articles: "
The Derelict
"
Irwin Allen productions