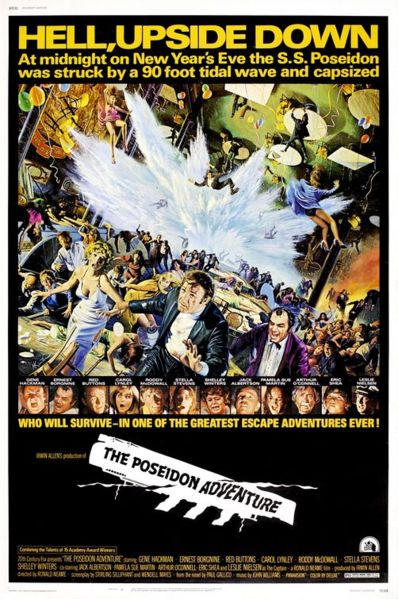 The Poseidon Adventure is a 1972 action adventure/disaster/thriller film based on a novel by Paul Gallico. The film was produced by Irwin Allen, who also directed its action sequences. The film was directed by British director Ronald Neame.
It won the Academy Award for Best Song for "The Song from 'The Poseidon Adventure" (aka "The Morning After"), as well as winning an Academy Award for Special Achievement in Visual Effects. Shelley Winters was also nominated for an Academy Award as Best Supporting Actress for her role in the film, and won the Golden Globe Award for Best Supporting Actress in a film for the role.
The plot centers upon the fictional ocean liner SS Poseidon, an aged luxury ship from the golden age of travel, on its final voyage from New York City to Athens before being sent to the scrapyard. On New Year's Eve, it is overturned by a tsunami wave caused by an underwater earthquake, trapping passengers and crew inside. A rebellious preacher attempts to lead a small group of survivors to safety.
A huge box office success, it was the top grossing film of 1972. The success of this film is in the vein of other all-star disaster films in the seventies such as "Airport" (1970) and later films like "The Towering Inferno" (1974), and "Earthquake" (1974).
A sequel, "Beyond the Poseidon Adventure" (1979), had an equally star-studded cast, but was a box-office and critical failure. "The Poseidon Adventure" was remade two times, first as a television special in 2005 with the same name, and a theatrical release with the name "Poseidon" in 2006.
External Links
Edit